December 2022 MLS Market Update
Posted by Jason Catalanotto on Tuesday, January 10, 2023 at 12:13:31 PM
By Jason Catalanotto / January 10, 2023
Comment
Welcome to the Monthly Market Report for January 2023.
"Happy New Year. There's opportunity right now," It's a new year, there's new possibilities, new opportunities, and we're going to talk about some of those today as we look at where we're at right now, what's ahead, and what we can do to be productive and successful in the new year.
Watch the Full Market Update Video
If we think about supply increasing over the past year, demand decreasing, it provides this opportunity. It works in favor of those that understand what's going on. I want to start in and maybe give a little bit of context and go back to a topic that we talked about last month, and that's on mortgage rates, and give you a little bit of context, maybe a reminder of something we talked about, but also another way to look at it.
I want to go right here and first start with the reality of last year, of 2022, and that is the 30-year fixed rate in this country doubled over the last year. We started out at 3.2% back in January a year ago, ended up right at 6.4% as we wrapped up the year. Never seen a year in the mortgage rate doubling, never seen as rapid a rise in mortgage rates in this country. All of that certainly has impacted the market. It's impacted folks psychologically, even maybe in the business and what's going on. I think our job right now is to be certain and understand what is happening.
And so, we talked about that last month and really broke down the relationship between the 30-year fixed mortgage rate and the 10-year treasury yield. If you remember, we talked about it's all about the spread, everything about the spread. We went through the examples of why are rates not at five and a half percent. I'll bring that slide back up. If we go back to the year 2000 through 2021, really the past 21 years, and we see the average 10-year treasury was 3.49%. The spread there, 1.79%, giving us an average mortgage rate of 5.28%.
So, you take the treasury, you add 1.79%, and you get the average mortgage rate, and that average over the last 20 years has been 1.79%. And then, we talked about how over the last couple of years that's fluctuated, but certainly in the last year we've seen that spread rise where today, 10-year treasury, 3.69%, the spread 2.79%, giving mortgage rates a rate right now, as of this most recent posting from Freddie Mac, 6.48%. Let's call that 6.5%. So that spread has widened over the last year.
If we take this as an idea, then the answer to that is, as that spread decreases, we see lower mortgage rates. And if the spread were normal today, we'd see an interest rate of just under 5.5%. Now, we talked about all of this last month. I'm going over it again, so you have an understanding of it. I'm going to give you a slightly different look at it because I think this is really, really important as we are educated in the market. Here would be my message right now: the spread between the 10-year treasury and the 30- year fixed mortgage is a measure of volatility and panic. That panic is starting to subside. That's good news for long-term interest rates. We've seen a little bit of a relief over the last six or seven weeks and a couple of chip ups in the last few weeks, but certainly up and down volatile right now. But if you look at the spread the last year, we started in January of last year and the spread's been rising as panic entered the market.
If I make this a little bit lighter and then draw in an arrow, the first part of the year we see folks getting more uncertain about the economy, things happening, and panic entering into the equation in our world economically. And then around June of last year, if you remember, the Fed came out and said, "We don't have this under control. We want to reset the housing market." We covered that extensively, and we saw the panic go up again. And then we come to the end of this past year, and we start to see the panic subsiding and folks and experts, economists, the Fed saying, "Maybe the peak of inflation is behind us." (05:52) Now, I'm not here to say it's all about inflation and we need to not do anything about that. I think there are very real things that we can do, but the bottom line is there's still about a 1% difference between where that spread sits today and where it is sat historically. So, as we do a better job helping to take panic out of the market, we will see that spread lower. I'm going to talk about how we can do that, but this is really, right now, the difference between what I'm going to say is the confident agent and the confused agent. The confident agent says, "You know what? I understand what's happening and I'm watching this and I'm informed and I'm educated. I am the educator." The confused agent right now says, "I don't know what's going on."
I think this is going to be a delineation point for many, many agents as we go throughout the year. I would encourage you to use this Monthly Market Report, show it to your team, bring it to them to say, "Okay, where are we right now? Are we a group of confident agents? If I'm a solo agent, am I a confident agent? Am I confused?" Because here's the bottom line, as we see that volatility, we see panic starting to come down in the market, here are a couple perspectives that I want to give you about opportunity right now.
First is from Lawrence Yun. "The upcoming months should see a return of buyers as mortgage rates appear to have already peaked and have been coming down since mid-November." We've talked about that. I want to remind you of that. One of the premier thinkers in the mortgage business, Dave Stevens, former Assistant Secretary of Housing, held positions at the MBA, he said this, and I think it's very important that we take note of it, he said, "So be advised, this may be the one and only window for the next few years to get into a buyers' market. And remember, as Federal Reserve data shows, home prices only go up and always recover from recessions no matter how mild or severe. Long-term homeowners should view this market right now as a unique buying opportunity."
I started off this saying, "Happy New Year. There's opportunity right now," and there is absolutely opportunity in the market. Now, I'm going to get to here in the next few minutes what I believe is the biggest opportunity, but for the long-term homeowner, this is an opportunity. This is an opportunity we haven't seen over the last couple of years. Now, I think there are things that stand in people's way and concerns and all that, and I want to address those, but I think if we miss this opportunity, we miss what this market can bring to us.
First, the one thing that is true right now about forecast for home prices is none of the experts agree. That is absolutely true. This is a look at the forecasters that we follow. They go anywhere from depreciation of 5% to appreciation of 5%. The important thing to remember right here is that we don't see any of these reputable forecasters calling for a free fall in prices in the housing market. I think you're starting to see a turn in that as well.
One of the interesting things that has been published recently was an article in the Wall Street Journal where they looked at home price appreciation before the pandemic and after the pandemic. If you look at before the pandemic from the fall of 2017 up until the spring of 2020, about 12% home price appreciation that two and a half year time span. If you think about the two and a half years going into this fall since the beginning of the pandemic, what did we see?
A tremendous amount of appreciation across this country in residential real estate, 38%. So would it make sense that in some markets and in some cases we would see a little bit of that come back? Absolutely it would. But again, not a free fall in prices like maybe some have said, people in the media, maybe people on YouTube, other places like that.
Another fact that people think about in prices is every home out there is reducing their price right now. Simply not true. If you look at this, the share of homes having their price reduced going all the way back to 2021, let's look at this graphic right here, at the height of the most recent information we have from realtor.com in November was just over 1% of homes having a price reduction in the market. So again, not a free fall, not a situation where we're seeing every home or a great majority of homes having their prices reduced, but just a slim piece there.
I think this is important that we remind ourselves that that is the case. One of the questions that I would certainly put on the table right now is this question: "Have home values hit their bottom?" This is a look right now at Case-Shiller, FHFA, Black Knight, and CoreLogic in their month-over-month home value change. If you isolate the last four months that have been published, what we see in each case, the depreciation peaked in August.
Now, I'm not here to say that we're out of the woods, but what I am here to say is home price depreciation is not in a free fall. As we go through November, December, we'll get this information, it runs in arrears, it's the best possible information for home prices. But what I'm saying is you're not seeing it drop and continue to drop. May see a little bit here and there coming forward, but not this precipitous decline in home prices.
We're going to continue to follow that. I want you to stay tuned to the Monthly Market Report every month so we can stay on top of this. But these are the questions that folks that are thinking about buying are asking right now. Maybe folks that are move-up buyers that are sellers that are asking right now.
So far we have been talking about these things from a National standpoint. Here is a look at what was happening in our local market.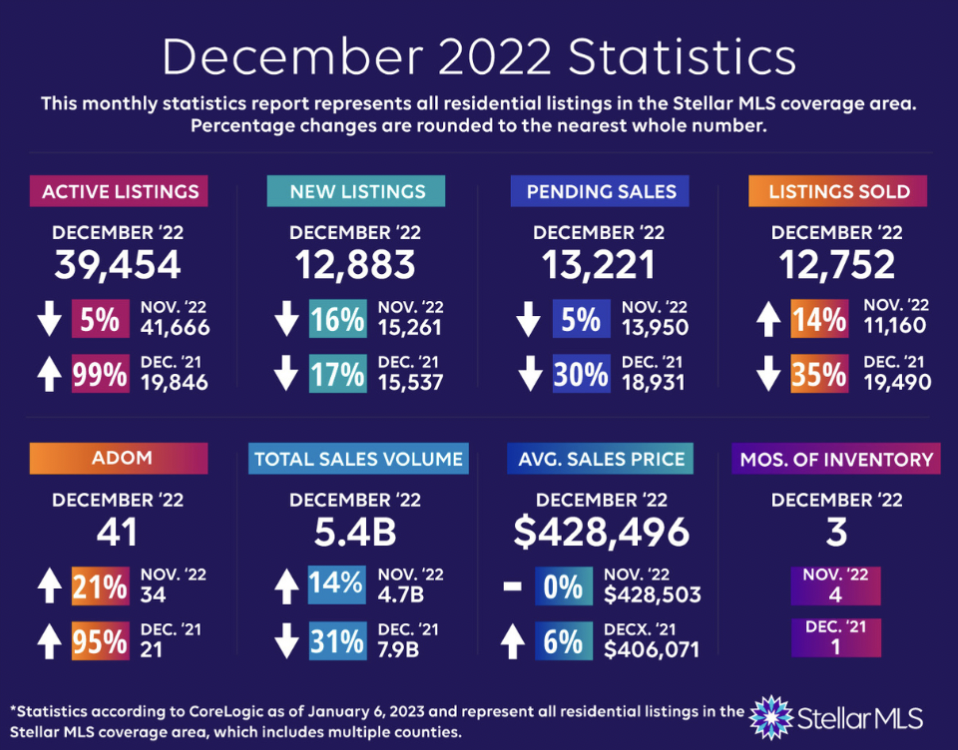 So as always, we want to give you the resources you need to make great decisions, to be informed, to be the confident professional that you need to be. We'll be back next month with a Monthly Market Report. As always, we are grateful for you watching, we are grateful for you investing this time into understanding what it looks like to master the turn and the opportunity this year brings. Happy New Year, and we'll see you back next month.